Welcome to this week's Kitchen Chat - we're thrilled to be interviewing two fascinating people. Be sure to tune in on Friday at 11:00AM Central!
Don't miss this diverse show on Friday. Jennifer is the author of No More Christian Nice Girl and Madeline is the founder of Madeline Hymns and a child ambassador for World Vision.
About Jennifer: Jennifer Degler, Ph.D., is a licensed psychologist and life coach with degrees in clinical
psychology and business administration. A frequent speaker at women's events and marriage retreats, Jennifer is known for her entertaining and engaging presentations that make audiences laugh while they learn. Her extensive background in theater and teaching, coupled with her quick wit and willingness to "get real" with audiences, make her a dynamic speaker. She also maintains a counseling practice in Lexington, Kentucky, seeing adults, children, and couples for psychotherapy. She has served as the Ethics Chair for the Kentucky Psychological Association and is also a member of the American Association of Christian Counselors.

Jennifer is the founder of Creating Christian Change, a life coaching enterprise that works with clients across the United States helping them to create lives they love. She has been interviewed by Psychotherapy Finances, the Lexington Herald-Leader, and local NBC and CBS affiliates as an expert in life coaching and mental health issues. Jennifer and her husband, Jeff, live in Lexington, Kentucky, with their two teenage children. For more about Jennifer and her work, please visit her website: http://www.creatingchristianchange.com
About No More Christian Nice Girl: When passivity and false niceness don't bring the abundant life Jesus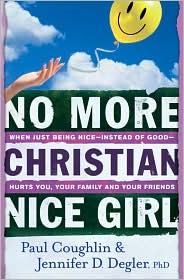 promised, some Christian women try even harder to hide behind a fragile façade of pleasant perfection. Paul Coughlin and Jennifer Degler give women the empowering message that they have options far beyond simply acting nice or being mean--if they will emulate the real Jesus Christ and face their fears of conflict, rejection, and criticism. Brimming with enlightening information, thought-provoking questionnaires, real-life stories, and biblically based teaching from both the male author of the pioneering No More Christian Nice Guy and a female clinical psychologist, this book will motivate women to allow God to transform them into authentic, powerful women of loving faith.
From the Back Cover
Be the Strong, Confident, and Caring Woman You Were Meant to Be Tired of doing all you can for others while your relationships remain stuck in neutral--or headed in reverse? Paul Coughlin and psychologist Jennifer Degler show how being nice can harm you and drain the life out of your relationships. They explore the keys to fulfillment at home, work, church, and even in the bedroom. You'll discover that emulating the real Jesus is the key to transforming from a Christian Nice Girl into an authentic, powerful woman of loving faith.
"What's wrong with being nice? Paul Coughlin and Jennifer Degler make a strong case that women need to be bold and assertive rather than people pleasers who try to do too much. I recommend this book to you." --Dr. Kevin Leman, Author of The Birth Order Book and Have a New Kid by Friday
"This refreshingly practical book is a must for any woman who yearns to move from the entanglements of being nice to the freedom of being real." --Georgia Shaffer, PA Licensed Psychologist, Certified Life Coach, and Author of Taking Out Your Emotional Trash
"As a Christian counselor, I see many women paying the high price of being too nice: depression, anxiety, stress-related physical ailments, as well as difficult and destructive relationship patterns. Finally there is a book I can recommend that gives women the reasons why nice isn't always good and the tools to help them stop." Leslie Vernick, Licensed Counselor, Speaker, and Author of The Emotionally Destructive Relationship and Lord, I Just Want to Be Happy.
About Madeline: Madeline Robison is a singer, writer, and public speaker. She is the founder and owner of
Madeline Hymns Music, a 501(c)(3) whose mission is to use the power of hymns to minister to believers and to fund charitable, life-saving projects world-wide through established, respected Christian humanitarian organizations. She is also a wife and a stay-at-home mother of four who is actively involved in her church and community.For more about Madeline, please visit her website: http://www.madelinehymns.org
About her music project: Hymns are sung prayers, and they have gripped me and caught my attention since early childhood. From Christmas songs that remind us of the majesty and mystery and origin of the season to perennial favorites for children like "Jesus Loves Me," many of the best-loved Christian songs are actually hymns. It brings me pleasure beyond words that this CD will be placing into the ears of its listeners the beauty, praise, and vulnerability of these hymns … AND that with the sale of each CD, we will be funding clean water wells in Africa (as we partner with World Vision) and the freeing of young girls from brothels in India (as we partner with International Justice Mission).